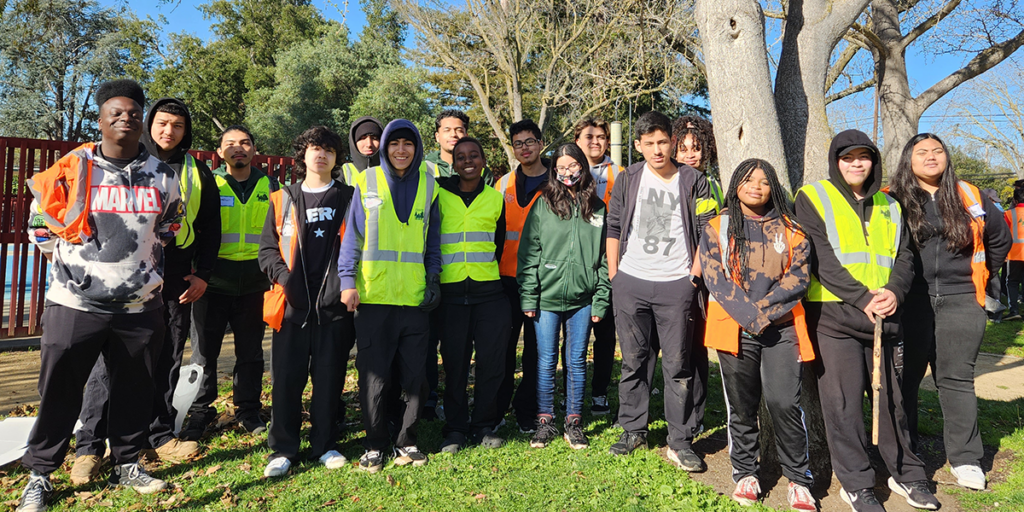 Teen Urban Foresters
Canopy's youth employment and leadership program
Canopy's Teen Urban Foresters (TUFs) serve as stewards and leaders in local urban greening.
The Teen Urban Forester program is a paid internship designed to support and connect high school students to urban forestry through an intersectional approach, prioritizing East Palo Alto, eastern Menlo Park, and BIPOC (Black, Indigenous, and people of color) applicants.
Recruitment
Check back in December 2023 for more information about joining the Spring 2024 cohort or join our mailing list to hear when recruitment starts. Contact Juanita Ibarra, Youth Programs Manager, at [email protected] with any questions.
About the Program
Environmental organizations have on average 16% staff of color, despite people of color making up 36% of the population (Green 2.0 Report). Through the TUF Program, we hope to provide students with the opportunities, knowledge, and skills that they will need to thrive in the environmental field, should they choose to pursue an environmental job after the program. Learn more about Intersectional Environmentalism.
Students from high schools in East Palo Alto work part-time during the school year and summer, and participate in every facet of Canopy's tree planting and tree care programs—planting, pruning, and caring for trees; leading volunteer groups; assisting with events; and more. Beyond learning marketable skills and gaining job experience, the TUFs work together to improve their neighborhoods in tangible ways. They help build local pride and contribute to the economic and civic flourishing of their community by bringing the life-giving benefits of trees to local schools, parks, and neighborhoods.
For the academic year sessions, Canopy currently recruits students from Eastside College Preparatory School, Kipp Esperanza, Oxford Day Academy and East Palo Alto Academy. For the summer session, Canopy recruits high school students who reside in East Palo Alto or eastern Menlo Park.
This program is made possible by a generous grant from the CAL FIRE Urban & Community Forestry Program.
Testimonials
"The TUF program has exceeded my expectations. When I joined, I thought that it was simple tree planting and a small project but it's more than that. I learned so much about the history of EPA that I never knew and I wouldn't have known since joining Canopy. I've also heard of terms like red-lining, blockbusting, and the green gap which I am now confident to provide definitions to. I've been educated well and built bonds with my co-workers." – Judge Cantrell, TUF Cohort of 2022
Canopy's TUFs engage with the topics of tree equity and racial justice as related to access to trees and the benefits that they provide. With fewer trees than its neighboring cities of Palo Alto and Menlo Park, and only 13.5% canopy cover (as of 2018), East Palo Alto is susceptible to the adverse effects related to the lack of trees. These include higher energy costs, greater incidence of heat-related and respiratory illnesses, and fewer shaded areas, just to name a few. With every tree planted, the TUFs help to provide their community with the opportunity to go outside and directly enjoy the benefits of trees. Through enrichment activities centered around intersectional environmentalism, story-telling, social justice, and local history, the TUFs learn the "why" behind their work.
Early Years
Canopy was created in 1996 to support Palo Alto's urban forestry programs and engage residents in learning about the importance of trees and how to care for them. Canopy became an independent 501(c)3 in 2002, and has extended its programs to the neighboring communities of East Palo Alto, Menlo Park, and Mountain View.
2007
The TUF program was started in partnership with Job Train, which employed the teens to work at Canopy. Later, Canopy partnered with Eastside College Prep, and the program began to take off more in terms of being able to recruit students who were a good fit for the program.
2009-2018
The "Youth Staff" program was developed in 2009 with the soundwall planting in East Palo Alto. The goal was to engage youth specifically from East Palo Alto so that they might also help with the engagement with the larger community in the initial planting projects in EPA.
2019-Today
In 2019, the TUF Program expanded from 6-8 TUFs to 13 TUFs per session. When the pandemic started, the TUFs were an integral part in continuing Canopy's effort to plant trees and tree care, under Covid-19 safety guidelines. In addition to fieldwork, the TUFs began engaging in topics of tree equity and participating in more enrichment activities.
There are three TUF sessions per year: spring, summer, and fall. Many TUFs decide to return for multiple sessions, and salaries increase with increased responsibility and time in the program.
Spring
The spring session runs from mid-January through the end of May and includes:
MLK Jr. Day Community Planting Event

Canopy Annual Party

Goldman Environmental Prize Ceremony

Community Project for East Palo Alto

End-of-session Wellness Hike
Summer
The summer session runs from mid-June through the mid-August and includes:
Extra paid hours and work outdoors
End-of-session Wellness Hike
Fall
The fall session runs from early September through mid-December and includes:
Canopy's Community Forestry School
Green Careers Series
End-of-session Wellness Hike
Community
Planting and caring for trees together is a powerful way to build community. Throughout their work with Canopy, TUFs work as a team, collaborating with one another and with volunteers, staff, and neighbors. The TUFs participate in community outreach for Canopy events, engage residents, and teach peers about the importance of trees in the urban environment. Along the way, they learn to have an active voice in civic life, becoming stewards and change-makers in their schools, neighborhoods, and communities.
Leadership
Leading groups of volunteers at tree planting and tree care events, the TUFs gain valuable leadership skills. They work with people from all backgrounds and ages, giving directions and coaching volunteers. In the process, they strengthen their communication skills, practice public speaking, and hone their ability to work in collaborative teams.
Education
The educational experiences are different for each TUF session, ensuring that returning TUFs continue to learn and grow with Canopy. TUFs complete a series of training sessions that cover a range of arboricultural topics: tree planting, tree biology, tree identification, the benefits of urban trees, and young tree pruning. They also complete hands-on training sessions in leading volunteers, developing their personal leadership style, and public speaking. Additionally, they occasionally participate in other facets of Canopy's operation to experience how a non-profit works. This includes joining or presenting at board meetings and attending staff meetings.
Beyond formal training sessions, TUFs have the opportunity to attend special community events, such as the Goldman Environmental Prize Award Ceremony, that expose them to important environmental issues and leaders.
Stewardship
Training experiences are complemented by fieldwork where TUFs utilize their knowledge and practice their skills. Fieldwork includes leading volunteers at tree planting and tree care events, and caring for young trees by watering, mulching, pruning, and adjusting stakes.
This work is important for the trees and for the TUFs. Through hands-on tree planting and tree care, TUFs are empowered to use their personal skills and knowledge to positively impact their community. They gain confidence in their own abilities and contributions, and learn the profound importance of environmental and civic stewardship.